New for February at EDSITEment
This month EDSITEment celebrates the Chinese New Year.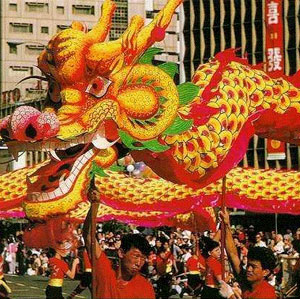 This month EDSITEment celebrates the Chinese New Year. February 14 ushers in the new year and the coming of spring. Engage students in "Lions, Dragons and Nian: Animals of the Chinese New Year" with a dragon parade. Dance with lions and hear firecrackers pop! Students in grades 6 and up also get a chance to "Follow the Great Wall of China" with the aid of an interactive map.
EDSITEment also takes a look at "Slavery and the American Founding: The 'Inconsistency not to be excused.'" The question of whether the American founders were in favor of or against slavery is not a new one. On the one hand, Americans at the time had failed to do away with slavery, as several insuperable obstacles seemed to make immediate abolition impossible.
EDSITEment teams up with Thinkfinity Consortium partner ArtsEdge to celebrate the quality of aretê in the upcoming Vancouver Olympics. Ponder what the Greeks meant by "excellence" in "The Victor's Virtues: A Cultural History of Sport." Then see our revised lessons on the original Olympics, and The Olympic Medal: It's All Greek to Us!
February's Black History Month is the perfect time to investigate the tremendous contributions that African-Americans have made to the United States' history and development. Find lessons on Frederick Douglass, Booker T. Washington, W.E.B. Du Bois, NAACP, Zora Neale Hurston, Lorraine Hansberry and A Raisin in the Sun, Martin Luther King, Malcolm X, and Barrack Obama
Finally, EDSITEment celebrates Presidents Day with extensive teaching resources on Washington and Lincoln. Washington and Lincoln are also celebrated in art. Celebrate Washington's birthday by exploring the art and history in Gilbert Stuart's famous portrait of our first president at the Smithsonian's National Portrait Gallery and test how much you know about this Founding Father. Then go to NEH's Picturing America site (poster 3-B) for more links and graded activities in the Teachers Resource Book.
Date / Time
Thursday, February 4, 2010 - 15:15
Library Type
Academic / College
Public
School (K-12)
Special