Ready for a Changing World: Design Challenges, Virtual Learning and Climate Change
Participatory design can be a powerful way to center youth voices as our society confronts major changes.
COVID-19 ushered in a period of change: life changed quickly, and our normal routines were no longer available to us. We had to be creative in our use of home spaces and materials we had on hand. Many of us became designers.
For example, we needed masks; many of us responded by making them. When the COVID pandemic hit, Seattle Public Library had just begun working with young people on an in-person participatory design program. When library staff had to pivot to offer the program virtually, the kids pivoted with us.
Providing young people with a virtual place to experiment gave them a sense of purpose and let them recognize the library as a community space with informal learning opportunities. Furthermore, preparing kids to think creatively and create solutions helps to build a future generation that's resilient and ready for the demands of a world in constant change.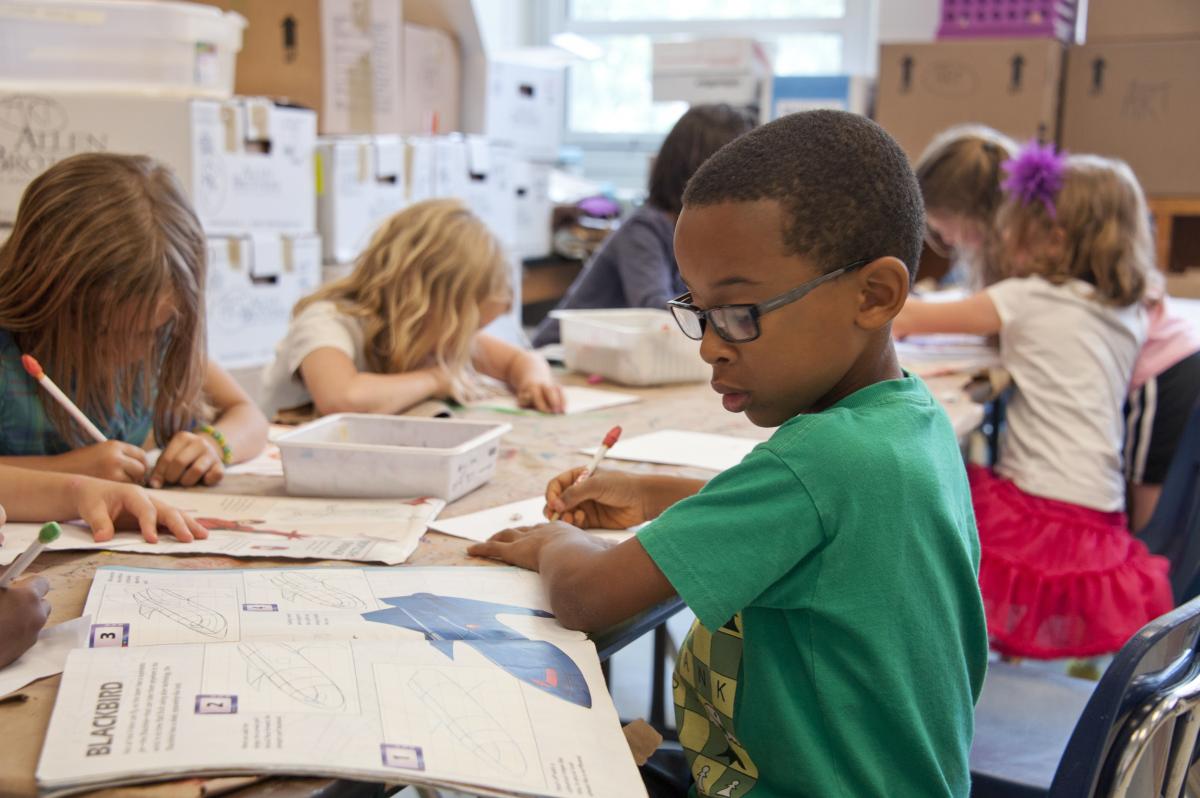 What is participatory design?
Simply put, participatory design is a practice in which users and designers learn from each other. The process promotes equity and democratization — which can be especially important with youth who may not regularly have agency-based opportunities.
Children are adventurous and unafraid to experiment, traits that make them excellent designers. Through exercises encouraging balanced relationship building, designing by doing, facilitation and idea creation, young people become designers of their own learning and equal partners with adults in the design process.
Participatory design can help kids gain confidence expressing ideas in an open setting and improve relationships with parents and teachers as they gain skills in navigating conversations and interactions. These stronger relationships and increased confidence can translate to higher rates of success at school, at home and in society.
Seattle Public Library's KidsTeam done virtually
At the Seattle Public Library, a significant part of my career has been dedicated to teaching kids how to think as designers. Through KidsTeam at the Seattle Public Library, we used participatory design to create learning experiences for youth, with their direct input on how the learning best supports their needs. In this situation, they provided feedback on how they should learn with technology through the library.
KidsTeam SPL was created in collaboration with Dr. Jason Yip at the University of Washington. Working at different branches throughout the city, pre-service librarians work with the kids to design the programs we offer at the library.
In January 2020, we started co-designing with e-textiles. Just as we were about to finish the workshops, the city of Seattle announced the closure of all libraries due to COVID-19. Wanting to continue the co-design, we set up a virtual KidsTeam SPL. (View a sample session plan for a virtual participatory design program.)
Here are some of some of the lessons I learned when designing online with kids at the library:
Virtual KidsTeam SPL provides the opportunity to continue the role of the library as a community connector while also providing the experience of informal learning, just as we had been doing in person.
Using technology as the main communication channel created certain frictions. In addition to participants requiring access to a device with an internet connection, other unexpected tensions occurred: siblings sharing a computer, or audio or video not working properly. When such inconveniences arose, we decided to continue engaging in the activity even with the glitches and not focus on the technology problems. Concentrating on the technical would have made it a troubleshooting session rather than a place to design and think creatively.
We believe preparing kids to think creatively about solutions as they become designers can build a future generation that's ready for the demands of a world in constant change.
Participatory design and climate change
Participatory design can be a powerful way to center youth voices as our society confronts perhaps the greatest area of anticipated change: the global climate crisis. From the Youth Climate Strike to the Sunrise Movement to Zero Hour and other youth-led movements, young people are organizing and leading in meaningful ways that have already inspired awakening and change.
As a framing tool, library-led participatory design programs can support development of youth-led efforts to educate others and build solutions to mitigate climate change. For example, a group of teens in your community could be given a challenge to design around. Such as:
How can we create a digital interactive story to inform people on how personal choices have an impact in climate change?
How can we create a game that lets players learn about the impact of greenhouse gases to the atmosphere?
How can we create a media project to explain how communities around the world are affected by climate change?
Allowing children and teens to continue experiencing the library as a space for community and design, even during these times, is key to the library's role as community connector. To learn more about an available ALA grant that can support your library in using participatory design to engage young people in efforts to understand and address climate change, see Resilient Communities (applications accepted July 1 – August 28, 2020).
Resources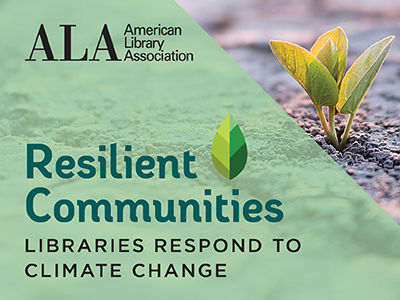 About Resilient Communities: Libraries Respond to Climate Change
Madeleine Charney, Beth Filar Williams, April Griffith and Juan Rubio are advisors for Resilient Communities, Libraries Respond to Climate Change, an initiative of the American Library Association. Future blog posts will cover specific program ideas that you can offer virtually over the coming weeks, including Earth Day activities and story times for all ages. 
Resilient Communities will empower libraries to engage their communities in programs and conversations that address the climate change crisis. Participating libraries will receive grant funding, materials and support. All types of libraries are invited to apply beginning in July 2020; programming will begin in fall 2020.
Read the project guidelines or for more information, email publicprograms@ala.org.
Date / Time
Wednesday, June 17, 2020 - 10:45
Popular Topics
Virtual
Environmental Sustainability