A new documentary recognizes Louisa May Alcott's extraordinary life and literary contributions.
A new documentary film and biography, Louisa May Alcott: The Woman Behind Little Women, will help audiences explore Louisa May Alcott's extraordinary life and times. The film was directed by Nancy Porter and written by Harriet Reisen. The companion biography of the same name was written by Harriet Reisen and published by Henry Holt and Company.
Please visit the Louisa May Alcott: The Woman Behind Little Women Web site for more information. The book is currently available for purchase in bookstores and online; the DVD can be pre-ordered and will be available December 29. The web site also provides background information about Louisa May Alcott and includes film clips, book excerpts, and links to Twitter and Facebook. For libraries interested in hosting a film screening or author reading, please complete the online form.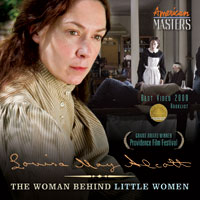 Louisa May Alcott: The Woman Behind Little Women will premiere on American Masters on PBS on December 28, 2009, at 9 pm (check local listings).
Shot in HD, and using animation and digital effects as well as docudrama, the documentary film is the first biography of this American icon. Louisa May Alcott was her own best character, and her life was dramatic, funny, surprising and mysterious enough for several novels. The award winning documentary traces her struggle from poverty to wealth and celebrity and the lifelong conflict between her powerful desires and her family's powerful needs.
The biography portrays a writer as worthy of interest in her own right as her most famous character, Jo March. A fresh take on this remarkable and prolific writer who secretly wrote pulp fiction, harbored radical abolitionist views and served heroically as a nurse in the Civil War, Louisa May Alcott is in the end also the story of how the beloved and enduring classic Little Women came to be.
Date / Time
Friday, December 11, 2009 - 16:00
Library Type
Academic / College
Public
School (K-12)
Audience
Adult
Children / Family
Older Adults / Seniors
Young Adult