Hybrid Programs in Rural Libraries
What can we learn from small and rural libraries about hybrid programming?
As we have seen thus far in our hybrid programming webinar series, hosting hybrid programs may look different at different institutions.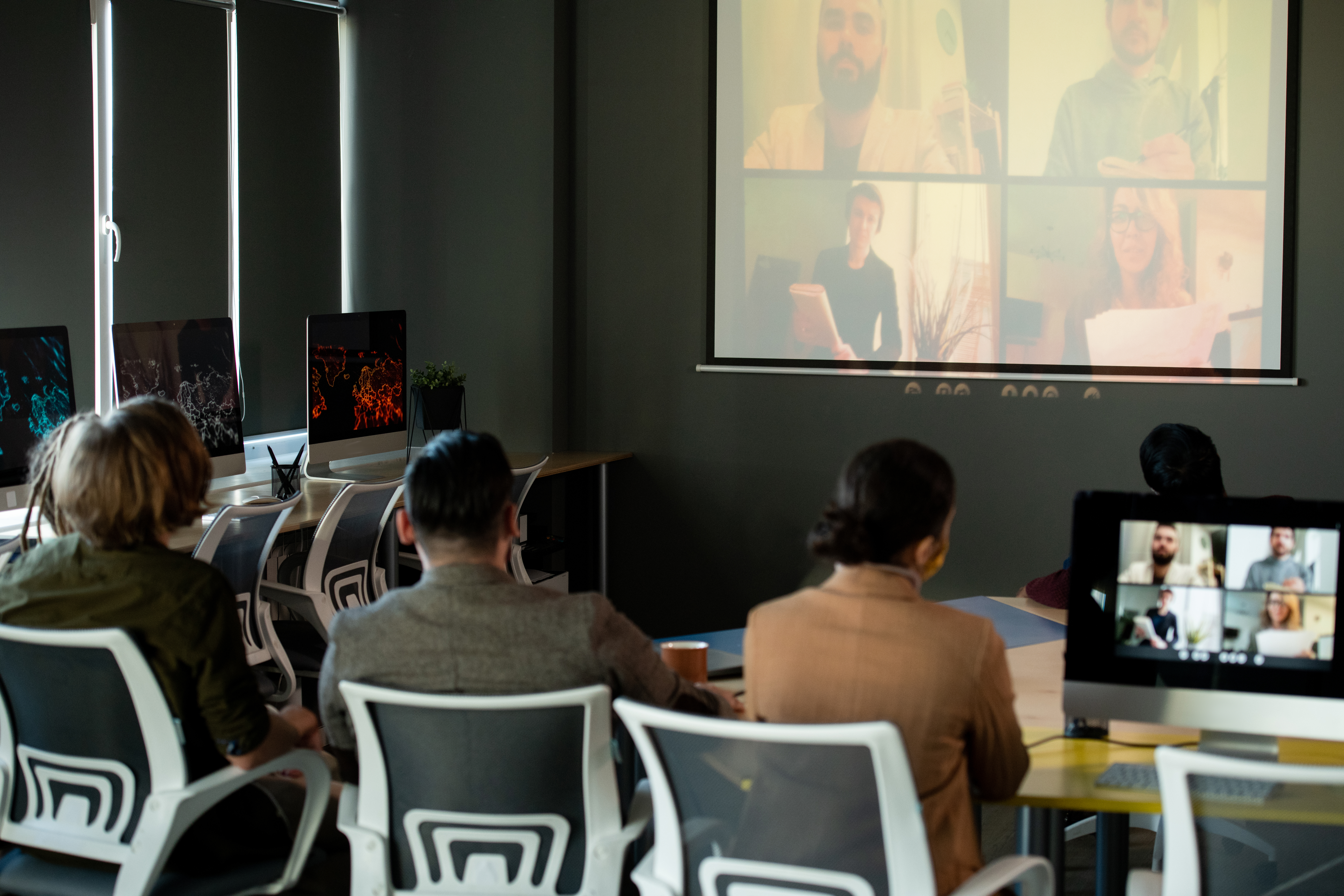 From Simmons University to Boston Public Library, we have seen examples of how academic libraries and urban public libraries are taking on the challenge. To gain some perspective from small and rural libraries, I talked to two Connecticut librarians: Doreen Jacius, library director at East Granby Public Library, and Rachel Taylor, adult services librarian at E.C. Scranton Memorial Library.
Can you please give a brief background of the community that your library serves?
Jacius: East Granby is a suburb of Hartford, Connecticut. It's a fairly small town with a population of about 5,500. There has not been a lot of substantial growth in the town in recent years, so it has maintained its small-town feel.
Taylor: E.C. Scranton Memorial Library is in Madison, Connecticut, an affluent area with a population of about 17,600 residents.
How many staff assist with public program development and implementation at your library?
Jacius: The total staff of my library is 15, but everyone is part-time besides myself. There are just two of us that run public programs for the library.
Taylor: We have a total library staff of 20, and there are 5 programming librarians. We do occasionally have library assistants help out with programs, but usually just for setup.
Why did you decide to start offering hybrid programs at your library?
Jacius: As part of the Libraries Transforming Communities: Focus on Small and Rural Libraries grant we received from ALA, we wanted to offer a community read program discussing what unites us as a small community and as a nation. Because of the COVID-19 pandemic, we decided to go hybrid to ensure that the community would have an option of how to attend. We actually had about equal attendance for those who came in-person and those who joined virtually.
After that, we received a coronavirus relief grant through our town that allowed us to create a permanent hybrid technology setup in one of our program rooms. We were able to show that the need was there for our community and that it was ultimately a cost savings for the library, as we can save money by having authors present virtually instead of paying for the expenses of bringing them in person.
Taylor: We shifted to hybrid programming once people began to get vaccinated against COVID-19 and it was reasonably safe to offer in-person programming again. We wanted the flexibility that hybrid offers so people who did want to return in person could do so, while still giving an option for those who wanted to tune in virtually.
For our hybrid programs, we have the presenters present virtually on Zoom, and we allow the community to come into the library to watch the presentation. We did try to do a hybrid program with the presenter in person, but it was a storytelling performance, and it did not work smoothly because the storytellers incorporated a lot of movement into their performance, which did not translate well to the virtual audience. For us, it has been easier to offer hybrid programs this way, with the presenter virtual and the audience in person.
What technology setup do you use?
Jacius: The community read was our first foray into hybrid programs. We wanted to make sure it was successful, so we hired a local resident who works in AV to help us run the event. For that initial program, we had three people helping: one to manage the virtual group, one to manage the in-person group, and the AV expert to make sure the technology worked. We used two microphones in the in-person room, two cameras, a laptop and Zoom.
As I said earlier, with the coronavirus relief grant that we received, we have been able to create a permanent hybrid setup in our program room. That has the same setup, with two microphones, two cameras, a laptop and Zoom. The same AV expert helped us set up that room and train library staff on how to use it, so now we run all our hybrid programs ourselves, in-house. It is helpful to be able to host hybrid meetings in that room as well.  
Taylor: Our library uses an OWL camera for all our hybrid programs; we have used it so much that we even gave it a name, Albert. It cost the library about $1,000, but it has become a fixture in our programming.

To run the programs, I typically give an introduction in-person in front of the computer camera so the virtual audience can hear. Since our presenters join virtually over Zoom and the in-person group is watching on a large screen, the OWL shows the audience and can pick up audience questions and comments. The virtual audience can also unmute themselves and ask questions, but they typically prefer to ask questions through the chat function. I read the questions out loud so both audiences can hear. We also use the OWL camera for hybrid meetings with the library board as well.
How did your audience react to the hybrid format?
Jacius: Our patrons love the flexibility that hybrid offers; even without COVID-19 as a concern, attending programs virtually works better for many people. People have been patient with the technology and understanding if quirks happen.  
Taylor: The Madison community has been responsive to the hybrid format, as it allows for greater flexibility. It is also good for our library; our program attendance basically doubled since we can count both virtual and in-person audiences. We usually only offer our special events as hybrid, but we also have one book club that meets hybrid since many members are unable to attend in-person due to mobility and health issues. Typically for our programs, about one-third of the audience attends in-person and two-thirds attend virtually.
What are the pros and cons of offering hybrid programs at your library?
Jacius: The pros are that you can reach more people. It really can be the best of both worlds. You can satisfy the people who want to come to the library in person and those who would prefer to stay home.
Taylor: The pro is, of course, that it allows people to attend the program however they feel most comfortable. We are also able to reach a wider audience, even people outside of Madison. A con can be that programs get more complicated logistically. For example, at my library, if we want to record a program I have to ensure that audience members are not on camera, to protect their privacy.
Will you offer hybrid programs moving forward?
Jacius: Yes, we plan to offer hybrid programs moving forward, and it will be an option for most of our programs, such as author talks, speakers and meetings. We do not offer hybrid for our hands-on programs, as that can be more challenging to manage.
Taylor: We will continue to offer hybrid programs, too, but we will probably offer fewer. We are back to doing a lot of in-person programming, and we will be probably start offering hybrid only for very special programs where we want to accommodate as many people as possible.  
What advice would you offer to other libraries who have limited budget, staff and technology, but who want to try out hybrid programs?
Jacius: My first bit of advice would be to find a grant or sponsor that will allow you to pay for a technology expert to help you get started and run your first program. It is very difficult to start doing hybrid programs from scratch, so being able to pay someone who can set up the technology, run the first program, and train you is incredibly helpful. If you do it once and learn that it is not something that you have the bandwidth to manage, that is still very valuable to know, and you can also explain to the community what you learned from that experience and what resources you would need if hybrid is something they want to continue.
Since we are a small library, it falls on me to manage the technology and troubleshoot if anything goes wrong, so learning if that is something that you are able to maintain is important before committing to a permanent setup. Also, look for ways that you do not need to pay monthly fees. Our permanent setup was paid for through a grant, and we use the basic Zoom package, which is free.
Taylor: I suggest that you start with something small. Do not try to do a musical or performance program for your first time, as that will be more challenging. Hire your speakers to present virtually instead of in-person. If you have the resources to do so, invest in an OWL camera. You will also need the right room with a large screen for your in-person audience to view the program. If you have the option, provide something special for the in-person audience, such as refreshments or book recommendation lists, so they feel like they are doing more than just watching a Zoom presentation.
Funding for this article has been provided by the National Endowment for the Humanities (NEH) as part of the American Rescue Plan: Humanities Organization Grant.
---
The American Library Association Public Programs Office extends our deepest condolences to Doreen Jacius' family, the East Granby Public Library staff and Board of Directors, and the community for the loss of Doreen. Below is a statement from the library as well as the memorial donation information for those interested in assisting her family at this time.
Notes of Gratitude to Our Community and EGPL Staff

The East Granby Public Library staff and Board of Directors extend a huge thank you to our library patrons and the community at large for their patience, support, acts of kindness, and generosity after the sudden loss of our beloved Director, Doreen Jacius. We mourn her loss together.

Moving forward, it is our highest intention to continue serving our patrons in accordance with Doreen's vision and level of excellence. Towards that goal, the library has resumed all regular hours and most scheduled programs. We are committed to continuing Doreen's legacy and providing the best library services we can offer. Thank you all for rallying around us at a most difficult time!

The Board of Directors of East Granby Public Library would also like to extend our gratitude and thanks to the entire library staff for their commitment, compassion, and professionalism in keeping the library going after such a devastating loss. You stand united and dedicated to serving the community in a way that would surely make Doreen proud! We are lucky to have each and every one of you!

There is a GoFundMe to benefit Doreen's daughters. In addition, we would like to share that the Doreen J. Jacius Memorial Fund has been established at PeoplesBank (1 Turkey Hills Road, East Granby, CT 06026) to benefit Doreen's daughters. If anyone would prefer to donate outside the GoFundMe platform, this option is available. 
Date / Time
Tuesday, October 4, 2022 - 10:00
Audience
Adult
Children / Family
Community Members
Older Adults / Seniors
Rural