Media Literacy for Adults
ALA has released a free digital guide and webinar series to help libraries with media literacy training.
Imagine that you are working at the reference desk when a patron comes to you with a question. They cite a "fact" that has been widely debunked, mentioning an article from a publication that you know to be untrustworthy. What can you, as a library worker, do to educate and inform them?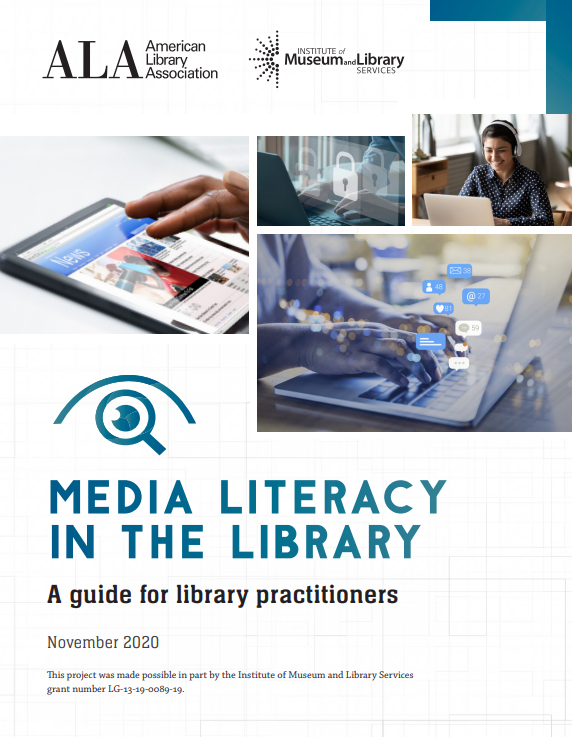 ALA has released a free digital guide and related webinar series to help library workers plan for moments like these.
Practitioners' guide
"Media Literacy in the Library: A Guide for Library Practitioners" contains information, program ideas and conversation starters on topics like misinformation and disinformation; architecture of the internet; civics; media landscape and economics; and media creation and engagement. The 30-page guide also explores ways to "meet patrons where they are" by integrating media literacy into reference interactions and existing programs. Download the guide here.
In the guide, library workers may explore:
Concepts such as filter bubbles, confirmation bias, and news deserts
How to answer questions about false or misleading news items in reference interactions
Virtual and in-person program ideas covering topics like fact checking, cookies, internet privacy, the Freedom of Information Act and local media
Ideas for discussing the corporate media landscape through a reading of "The Hunger Games" trilogy by Suzanne Collins
Tips and resources for measuring program outcomes

 
Webinar series
Starting in winter 2021, a series of one-hour webinars will explore concepts from the guide. Led by project advisors, the webinars are free for all library workers. 
Register for the live sessions using the links below; all sessions will be recorded and available within 24 hours on ALA's Programming Librarian website.
Media Literacy for Adults: Meeting Patrons Where They Are, recorded January 12, 2021
People who need media literacy skills may not be eager to sign up for a program or class on the subject; in fact, they may not know their skills are lacking at all. In this webinar, Kristen Calvert of the Dallas Public Library and Amber Conger of Kershaw County Library in South Carolina will cover how library workers can meet the needs of their adult patrons and how to incorporate media literacy practices in existing programs and at the reference desk.
Media Literacy for Adults: Misinformation and Disinformation, recorded February 10, 2021
Fake news can be difficult to combat because of how quickly it spreads throughout the online sphere. How can library workers help patrons decipher between what is real and what is fake? In this webinar, Nicole Cooke of the University of South Carolina School of Information Science will discuss how libraries and information organizations are in prime positions to assist their students and patrons with disputing misinformation, disinformation, and malinformation.
Media Literacy for Adults: Architecture of the Internet, recorded February 24, 2021
Many of us use the internet every day but are unfamiliar to the ways the internet works, including why certain content ends up in our search engine results. There is a largely invisible system at work that tailors and personalizes your online content. In this webinar, Natasha Casey of Blackburn College will discuss cookies, algorithms, and a variety of other parts of the internet that track your online presence. How can we talk about these things with library patrons?
Media Literacy for Adults: Civics, recorded March 10, 2021
What is civic information and what role does the library play in providing access to it? Join Laura Saunders of Simmons University School of Library and Information Science for a webinar on the important role libraries play in the civic life of their patrons and how that role is shaped.
Media Literacy for Adults: Media Landscape and Economics, recorded April 7, 2021
Our current media ecosystem is pretty messy. It is filled with a mix of both professionally produced and user-generated content that tends to get blended together on internet social media platforms like YouTube and Facebook. In this webinar, Michael Spikes of Northwestern University School of Education and Social Policy will discuss how this mix of content leads to a "blurring of the lines" between various types of content making it difficult to tell what is trustworthy and what is not.
Media Literacy for Adults: Media Engagement and Creation, recorded April 14, 2021.
Chances are, you or a colleague of yours have created online programming content for your library recently. Creating media content has become easier than ever, thanks to the wellspring of new platforms and free tools. In this webinar, Kurtis Kelly of Estes Valley Library will walk participants through how to discover their voice through media creation, while gaining awareness of their personal digital footprint.
Media Literacy Education in Libraries for Adult Audiences is made possible in part by the Institute of Museum and Library Services grant LG-13-19-0089-19.
Date / Time
Thursday, December 10, 2020 - 09:45